Published on March 18, 2019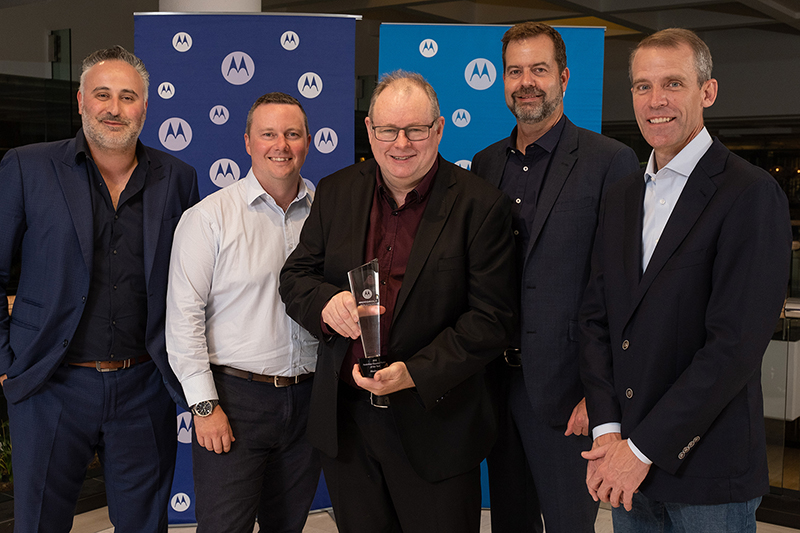 An epicentre of fun in the sun and glitz and glam, the Gold Coast proved to be a winning location for Mastercom in February where they won Motorola Solutions' Australian Radio Partner of the Year Award.

On February 11 and 12, Mastercom representatives workshopped their way through the 2019 ANZ Channel Partner Conference, attending cutting edge presentations and plenary sessions focused on the evolving nature of the industry and technology.

A hallmark industry event, the highly anticipated annual conference brought the best global and ANZ technical specialists together to celebrate a year of achievements and secure a strong industry future through professional development.

Culminating with the Awards Dinner held at the ever-dazzling Sheraton Mirage, seven top performing partners – including Mastercom! – took home trophies for their outstanding achievements and market leadership in 2018.

Australian Radio Partner of the Year – Mastercom
New Zealand Radio Partner of the Year – Ignition Networks
Outstanding Radio Sales Achievement, New Zealand – Paul Rutledge (TL Parker)
The Stuart Dell Outstanding Radio Sales Achievement – Sam Sergi (BTW Communications)
Silver Fox (our award recognising long-term contributions to the radio industry) – John La Cava (Miles Electronics)
Outstanding Sales Partner – Ace Communications
Technical Excellence Award – Michael Whyte (TL Parker)
Of the win, Mastercom Managing Director, Hamish Duff said:

"This award represents a dedicated team of people who work incredibly hard every single day to deliver for our clients and seek out technological innovations.

I am honoured to accept this award of behalf of the Mastercom family and look forward to continuing to develop our services against the top industry benchmarks, largely led by Motorola."

Mr Duff also congratulated the other winners, citing the ever-present need for the Industry to proactively work together to open new market opportunities.

Mastercom would like to thank Motorola Solutions for putting on the event and look forward to another successful year ahead.

More information and photos from the event can be found on Motorola's website: http://smartcom.motorolasolutions.com/motorola-solutions-partners-tackling-the-opportunities-of-broadband-and-data-driven-convergence-head-on/